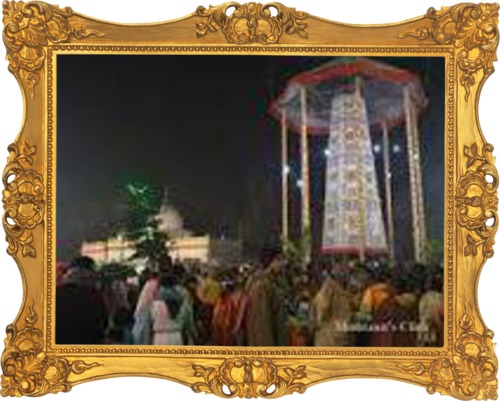 Raas Mela is the most ancient and traditional of all fairs. Every year even when the festive mood of the bygone Durga Puja still lingers in our minds, people of Cooch Behar get set to celebrate the Raas Yatra of Sri Sri Madan Mohan Thakur. Raas mela celebrations commence from the auspicious day of Purnima in the month of Kartik according to Bengali calendar.

Though there is enough controversy regarding the beginning of this fair, its origin can be traced back during the rule of the 17th King of Cooch Behar, i.e. Maharaja Harendra Narayan, during 1783-1839. This Raas Mela is being celebrated first at Vetaguri, then at the Madan Mohan Temple of Cooch Behar city adjacent to Bairagi Dighi and afterwards from 1912 at the Parade Ground or the present Ras Mela Ground.

The local Municipalipality conducts this Rass Mela at Rashmela ground and the Debuttor Trust Board conducts the fair at the temple compound. Many devotees along with sellers from all over Bengal and adjacent states including Nepal and Bhutan throng this place during this fair.

Another feature is that not only people of all creed & religion join this fair, but even the revolving Raas-Chakra (a tall semi-cylindrical like structure made out of paper and bamboo/posts) at the temple lawn is being beautifully decorated over generations by a Muslim family. This Raas-Chakra is beautifully decorated with paper floral designs and different pictures of Sri Krishna are pasted all over. This traditional fair takes place for at least continuous fifteen days.